FXTM is an online forex broker that offers the trading of currency pairs, and CFDs on metals, indices, precious metals, energies, and others.
FXTM was founded in 2011 as a foreign exchange and CFDs broker. FXTM brand is authorized by Tier-1 and Tier-2 Forex regulators, such as the FCA in the UK and CySEC in Cyprus. This broker accepts traders from Nigeria.
This post is a review of FXTM's trading conditions, fees, deposit and withdrawal options, and available trading instruments. It also gives you the pros and cons of using this broker.
FXTM Review Summary
🏢 Broker Name
Exinity Limited
📅 Establishment Date
2011
🌐 Website
www.forextime.com
🏢 Address
3rd Floor,5 Allen Avenue, Ikeja, Lagos (Lagos Office)
🏦 Minimum Deposit
₦10,000
⚙️ Maximum Leverage
1:2000
📋 Regulation
FSC Mauritius, FCA, CySEC, FSCA, CMA
💻 Trading Platforms
MT4 and MT5 for PC, Mac, Web, Android, iOS and FXTM Trader for iOS and Android
Start Trading with FXTM
FXTM Pros
FXTM is regulated in Tier-1 and Tier-2 jurisdictions
FXTM has negative balance protection
FXTM has NGN account currency
You can deposit/withdraw funds via your Nigerian bank account
The customer care support of FXTM is good and available 24/5
FXTM Cons
FXTM charges dormant account fees after 6 months of inactivity
FXTM charges withdrawal fees on some payment methods
FXTM customer support is not available 24/7
FXTM has high leverage which means the risks of capital loss are higher
Is FXTM Safe for Traders?
Despite the fact that there is no forex regulation in Nigeria, FXTM is considered low risk for traders in Nigeria and they are low risk because of their regulations by Top-Tier financial authorities.
The details of the regulations and licenses for FXTM can be found below.
1) Financial Services Commission (FSC) Mauritius: FXTM is registered and regulated in Mauritius by the FSC in the Republic of Mauritius under the name Exinity Limited as an investment dealer. Traders from Nigeria are registered under this offshore regulation.
Note that because the broker is not regulated in Nigeria, trading with them from Nigeria is at your own risk and the foreign regulation customer protection rules may not cover you.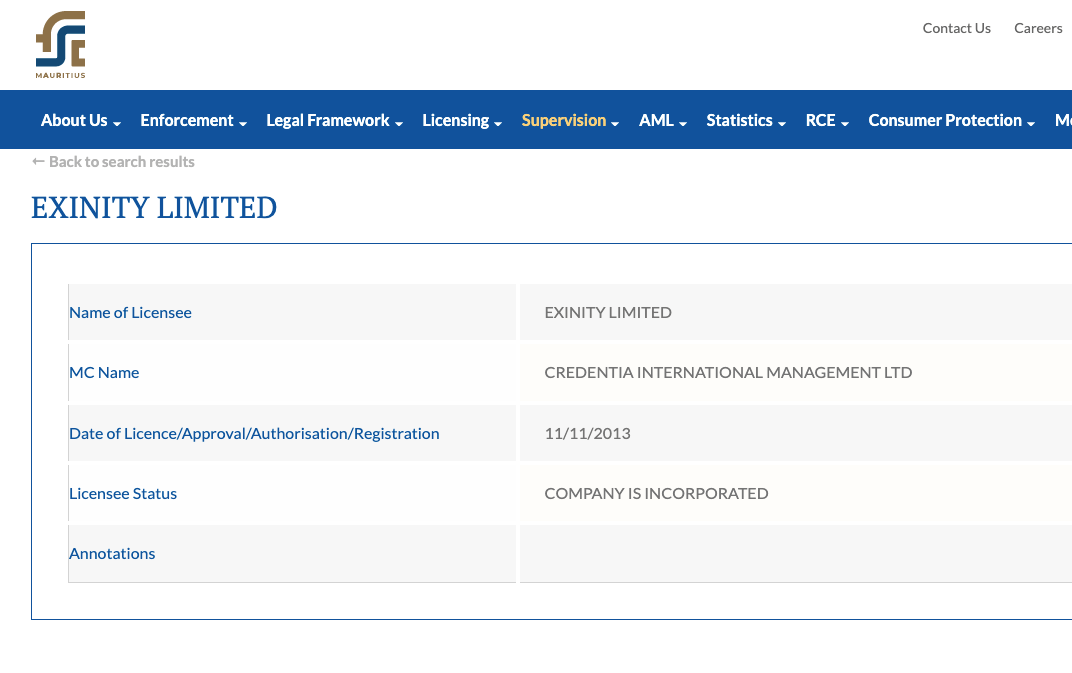 2) Financial Conduct Authority (FCA), United Kingdom: FXTM brand is also authorized by Tier-1 regulator in the UK, the FCA under their registration as Exinity UK Limited to offer financial services. They serve UK clients through this registration.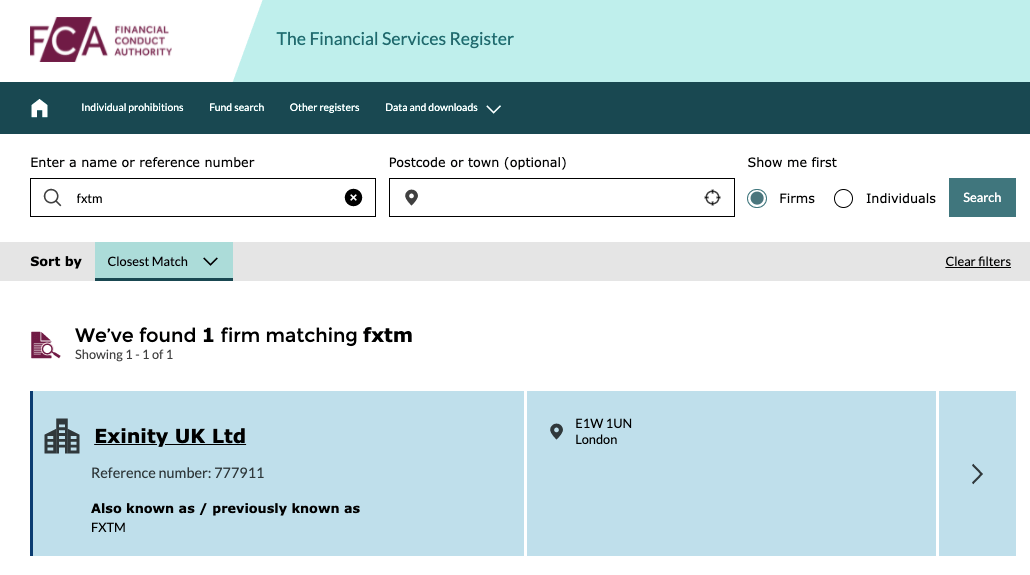 3) Cyprus Securities and Exchange Commission (CySEC): FXTM is licensed by the Tier-2 regulator, CySEC, through their registration in Cyprus as Forextime Ltd as an investment firm offering investment services. They serve European clients through this license.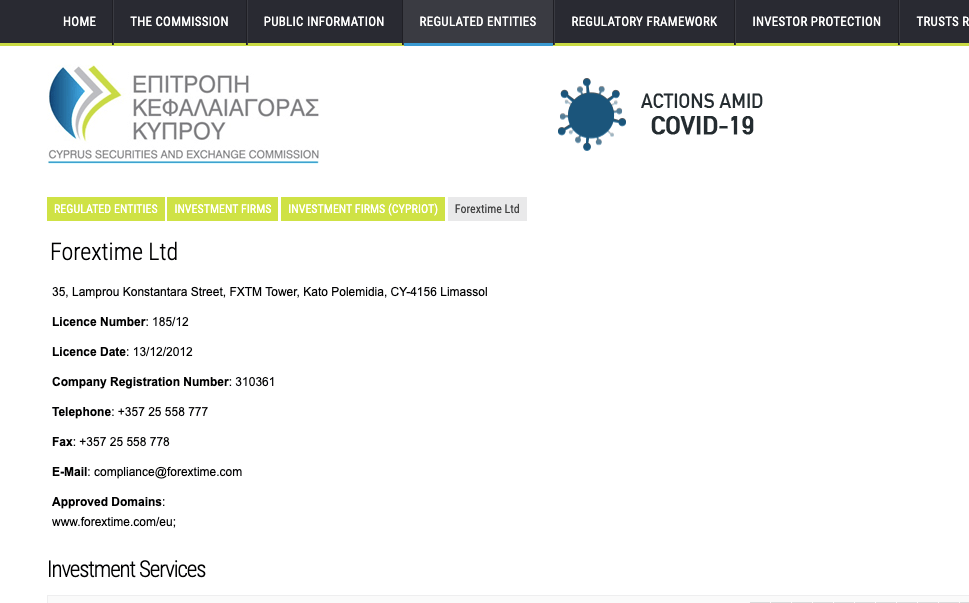 4)Financial Sector Conduct Authority (FSCA) in South Africa: The FXTM brand is also regulated in South Africa as ForexTime Ltd and licensed as a financial service provider. FSCA is a Tier-2 regulator.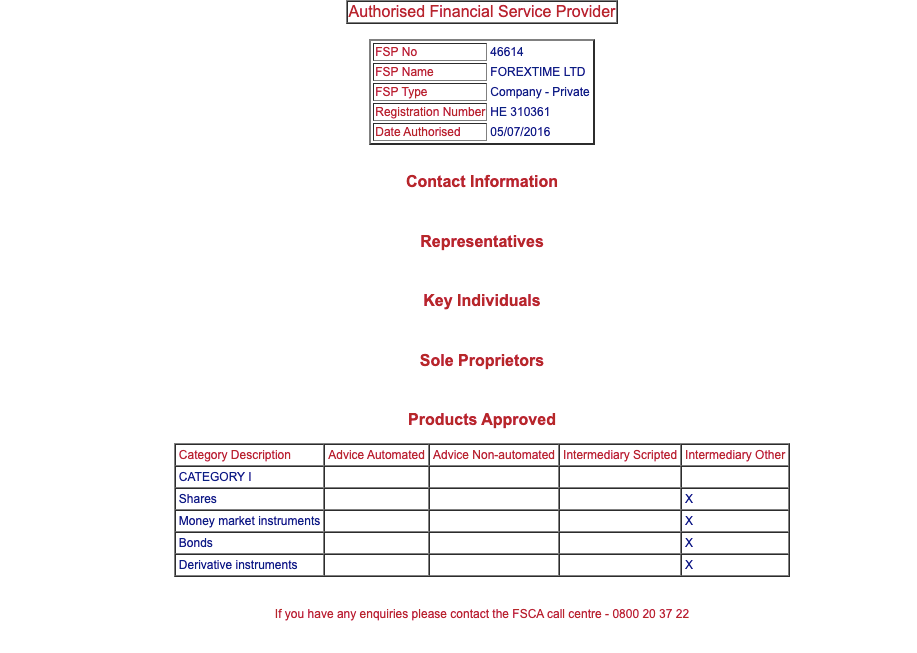 5) Capital Markets Authority: FXTM is one of the non-dealing online foreign exchange brokers licensed in Kenya. They are registered as Exinity Capital East Africa Limited with license number 135.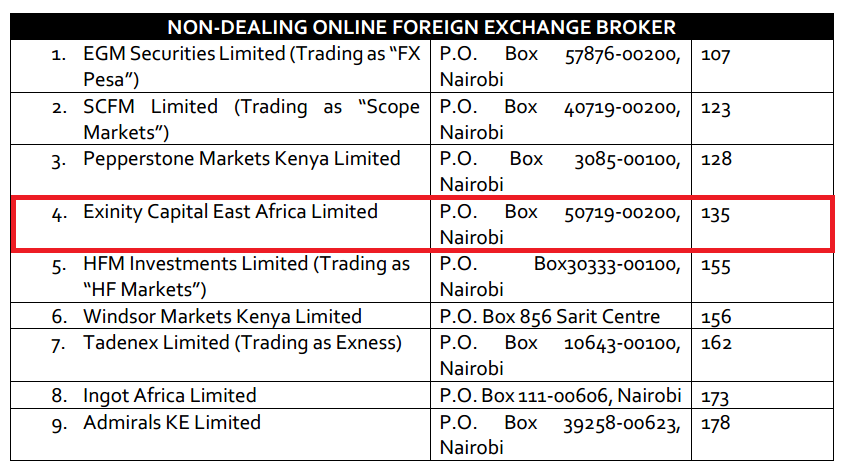 FXTM Leverage
FXTM offers both floating and fixed leverage for trading, depending on the type of account, currency pair, or instrument traded.
For FXTM floating leverage, the FXTM maximum leverage is 1:2,000 but the leverage will reduce as the notional value increases, that is, as the size of positions increases because it is variable leverage.
FXTM offers fixed leverage trading for Micro Accounts on some instruments. CFDs on stocks, commodities, and spot indices have fixed leverage on FXTM depending on trading instruments and account types.
With a leverage of 1:2,000, you can open a trade position worth 2,000 times the value of your savings. For example, if you deposit $100, you can place a trade of $200,000.
Note that trading leveraged products involves risk and you could lose all your money. It is best to avoid trading CFDs unless you understand it and have experience. It is important not to use all the leverage available when trading, as this increases your risk of capital loss.
FXTM Account Types
There are 3 main FXTM trading accounts you can choose from, the Micro Account, the Advantage Account, and the Advantage Plus Account.
The Islamic Account is also available in all account types, and you can try the demo mode of all types of accounts.
Different FXTM account types determine the kinds of instruments you can trade, fees per trade, transaction size, deposit and withdrawal methods, and leverage.
To help you choose the right account type, here is an overview of the 3 three accounts types offered by FXTM below:
1) Micro Account: The FXTM Micro Account is designed for new traders who want to invest in the Forex market. Micro account holders are only allowed to place trades through the MT4 trading platform. This account is also referred to as Standard MT4 on the platorm.
FXTM Micro Account users can trade Forex and CFDs (contracts for difference) on commodities, stock baskets, FX indices, and metals.
This account does not charge commission fees and spreads start from just 1.5 pips. Swap fees apply for overnight positions.
FXTM Micro Account has a minimum lot per trade requirement of 0.01. This account features fixed leverage, with maximum leverage of 1:1000, and offers instant execution of trades.
The Micro Account requires a minimum deposit of ₦10,000 or $10 to begin trading. This account has negative balance protection, which means that you will not lose more than the money deposited. If a trade position is unsuccessful and you suffer a loss, any negative balance that accrues on your account will be reset to zero.
2) Advantage Account: FXTM's Advantage Account is for more experienced traders who can trade through the MT4 and advanced MT5 trading platforms.
FXTM Advantage Account holders can trade a wide variety of financial instruments. Those instruments include Forex, metals, indices, stocks, CFDs, stock baskets, stocks, and FX indices.
Spreads on this account start from 0.0 while commission charges start from $0.40 to $2 (per side), and are based on a floating commission structure that varies based on trade volume. Swap fees apply for overnight positions.
FXTM Advantage Account has a minimum lot per trade requirement of 0.01. This account features floating leverage, with maximum leverage of 1:2000, and offers market execution of trades.
The Advantage Account requires a minimum deposit of ₦80,000 or $500 to begin trading and also has negative balance protection.
3) Advantage Plus Account: The FXTM Advantage Plus Account is similar to the Advantage Account, the Major difference being that this account is commission-free. Advantage Plus Account-holders can trade through the popular MT4 and advanced MT5 platforms.
Tradeable instruments on this account are Forex, metals, indices, stocks, CFDs, stock baskets, stocks, and FX indices.
You trade on this account at spreads starting from 1.5 pips. There are no commission charges, but there are swap fees for overnight positions.
FXTM Advantage Plus Account requires a minimum trade lot size of 0.01. It offers floating leverage, with maximum leverage of 1:2000, and market execution of trades.
To start trading on the Advantage Plus Account, you'll need a minimum deposit of ₦80,000 or $500 and will have negative balance protection.
4) Islamic Account: FXTM Islamic Account offers zero swaps in line with the sharia law of no-riba, which means that you won't pay any fees/interest for maintaining a position overnight. This option is designed for Muslim traders. Islamic Account holders cannot engage in the trading of exotic FX pairs.
To get an Islamic Account on FXTM, first create a Micro or Advantage Account, then contact the support team to enable Islamic status on your account. You will be required to provide a document that proves you are a Muslim. You can use your birth certificate or any other document that shows you are a Muslim.
FXTM Invest
FXTM Invest is the company's name for its copy trading services. You get to choose a profitable manager and copy their trades. If you like, you can also change managers. For every successful trade, you pay your manager a commission.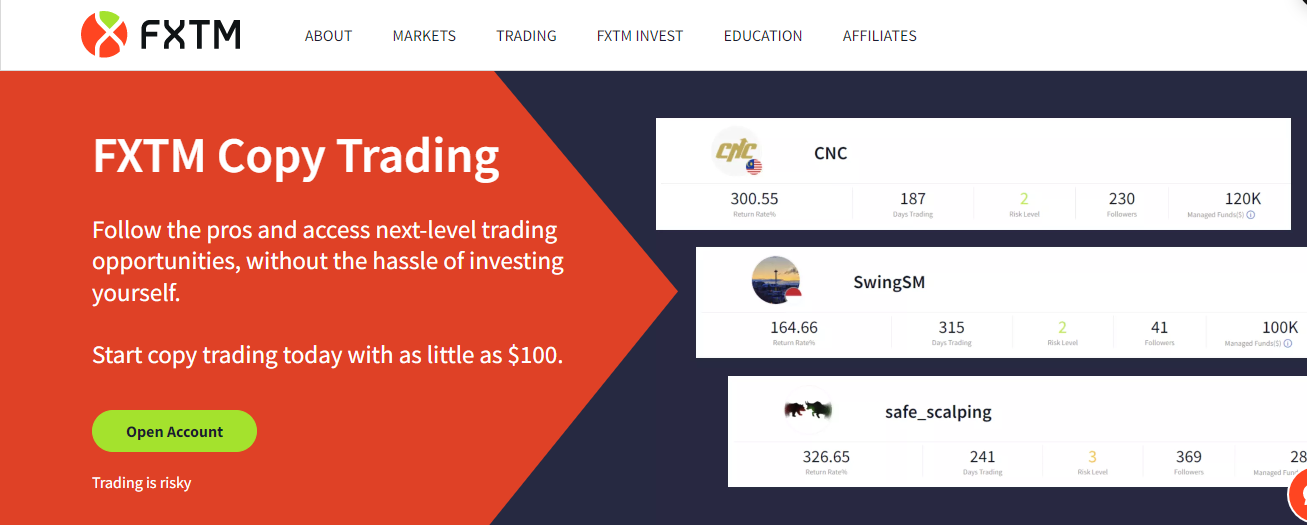 FXTM Base Account Currency
Currently, the base currencies available on FXTM are Euros – EUR, United States Dollar – USD, Great Britain Pounds – GBP, and Nigerian Naira – NGN.
When you create an account, you are required to select one of the four account currencies on FXTM, which means that all trading, fees, deposits/withdrawals, and profits/losses will be shown in this currency and converted accordingly.
FXTM Overall Fees
FXTM charges fees to traders based on the type of accounts they have. Details of the trading and non-trading fees on FXTM are shown below:
Trading fees
1) Spreads: Whenever you trade an instrument on the FXTM platform, the broker adds a markup to the ask price of the instrument. The markup which is the difference between the ask price and the bid price is referred to as spread, measured in pips.
FXTM uses a floating spreads system and its spreads on the Micro Account and Advantage Plus start from 1.5 pips, while its Advantage Account spreads start from 0.0 pips. Typical spreads for major pairs on FXTM are shown in the table below:
| Instrument/Pair | Micro Account | Advantage Account | Advantage Plus Account |
| --- | --- | --- | --- |
| EUR/USD | 1.9 pips | 0.0 pips | 2.1 pips |
| GBP/USD | 2 pips | 0.0 pips | 2.5 pips |
| EUR/GBP | 2.4 pips | 0.6 pips | 2.7 pips |
| XAU/USD | 45 pips | 9 pips | 36 pips |
2) Commission fees: FXTM offers commission-free trading for Micro and Advantage Plus account holders, and charges commission on the Advantage Account starting from $0.40 to $2 per lot side opened. The commission charge is based on a floating structure and reduces as your size of trade increases.
3) Swap fees: Whenever you keep a trade position open past the market's closing time, the trade rolls over to the next trading day and you incur overnight funding costs or rollover fees, also called swap fees.
FXTM charges swap fees on all account types for holding a trade position open overnight either long swap (buy option) or short swap (sell option).
Swap-free trading is allowed on FXTM Islamic Account for 7 days, after which, account holders pay daily fees.
For example, if you enable the swap-free option and then open EURUSD trade, it has no swap fees for the first 7 days. After 7 days, it has swap-free (Daily Fee), of about -$10.63 per lot.
If you close a trade and re-open it, the 7 days start counting afresh, and you pay zero swap fees.
Non-trading fees
1) Deposit and Withdrawal fees: FXTM does not charge deposit fees for funding your account and does not charge withdrawal fees on most payment methods. Some withdrawal methods, like card withdrawals, attract a transaction fee of $3 per withdrawal.
You will not pay for deposits and withdrawals using your Nigerian bank account.
2) Account Inactivity charges: After six months with no trading activity on your account, you'll be charged $5 monthly on any balance in your account.
However, if you have more than one account and at least one of those accounts is used to trade, then no fees will be charged. If your account balance is zero, no negative balance will accrue.
How to Open FXTM Account in Nigeria
If you want to start trading on FXTM, you need to open an FXTM live account. You can open an FXTM account, by following the steps below:
Step 1: Visit FXTM's website at www.forextime.com and click OPEN ACCOUNT in the red button at the top right corner of the page on the desktop or the middle of the page on mobile.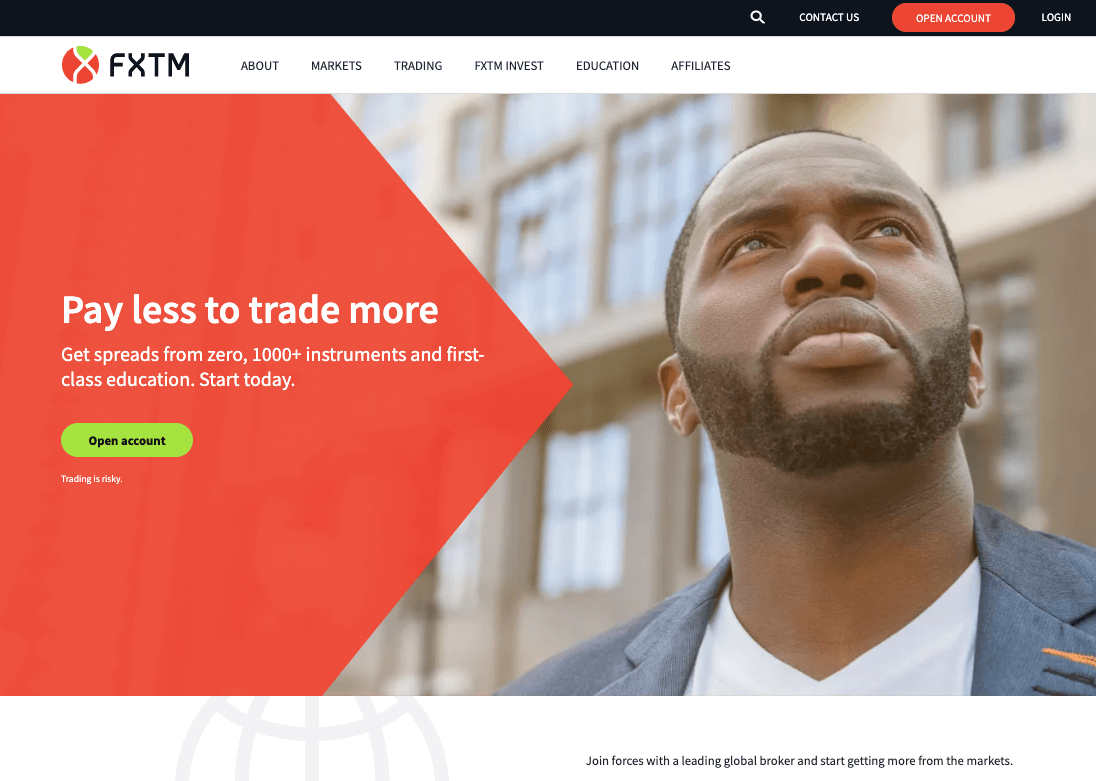 Step 2: Fill out the form that appears. You will need to provide your name, email address, phone number, and country, then create a password. Once you do that, click on "SEND PIN" to receive a verification code via SMS to continue with the process.
You can also choose to verify via WhatsApp and the verification PIN will be sent to you via a WhatsApp message.
Once you get the verification PIN, enter it, check the terms and agreement box and click on 'Register now' to continue.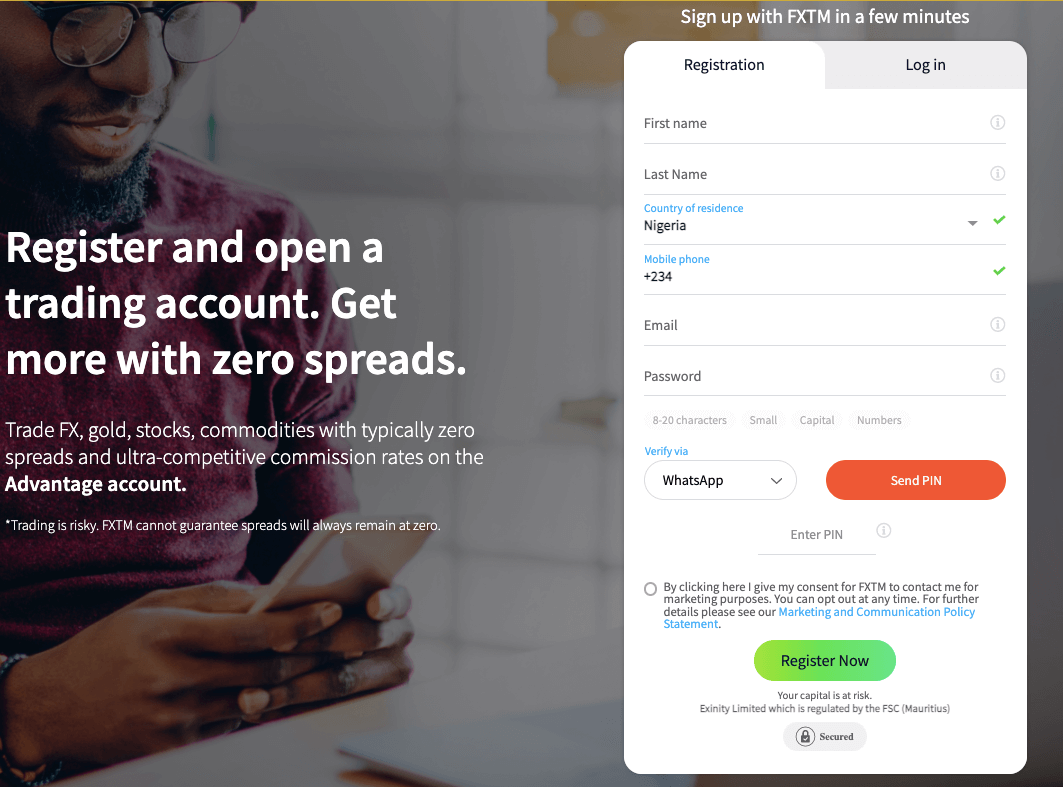 Step 3: You will be taken to the client area/dashboard and required to choose an account type to proceed.
Scroll down below the account type you want and click on 'Open Account' to open either the Micro, Advantage, or Advantage Plus Account.
You can also choose to open an FXTM demo account at this point by clicking on 'Try demo'.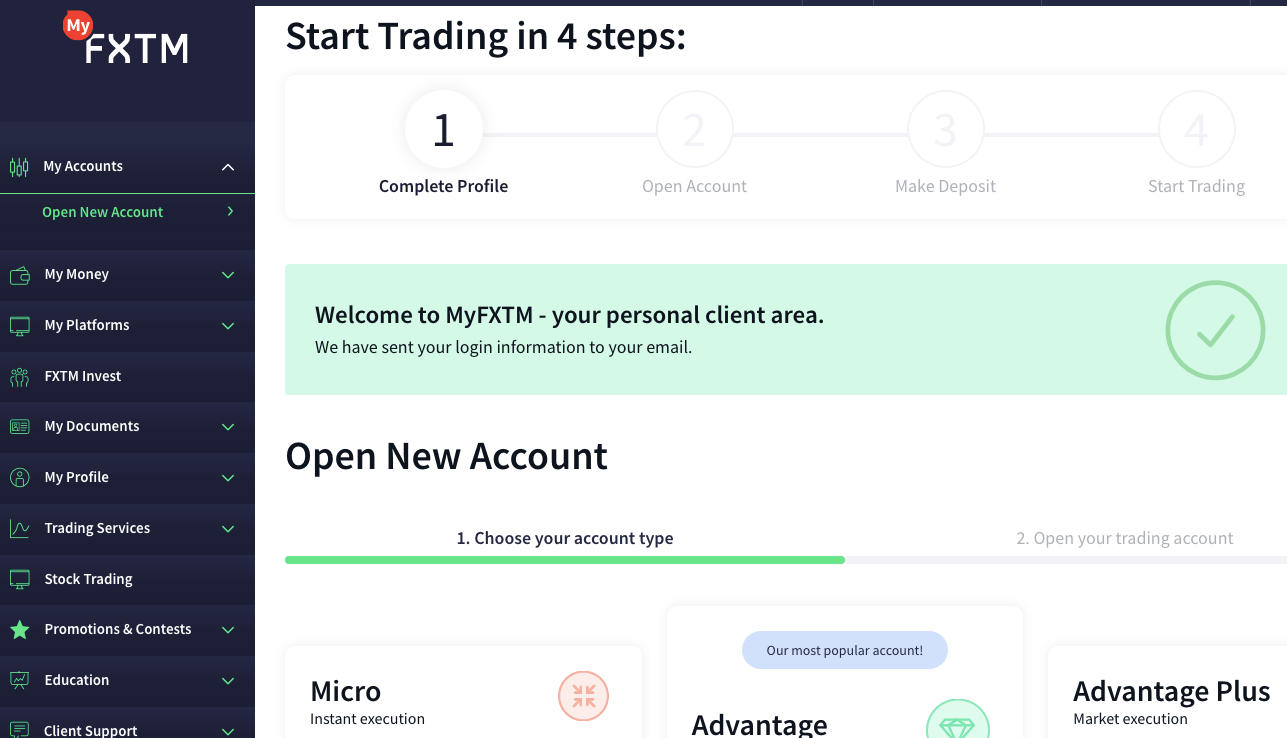 Step 4: After clicking 'Open Account', a form will appear for you to fill out to complete the Account Application process. Fill out this form and click on Submit at the button.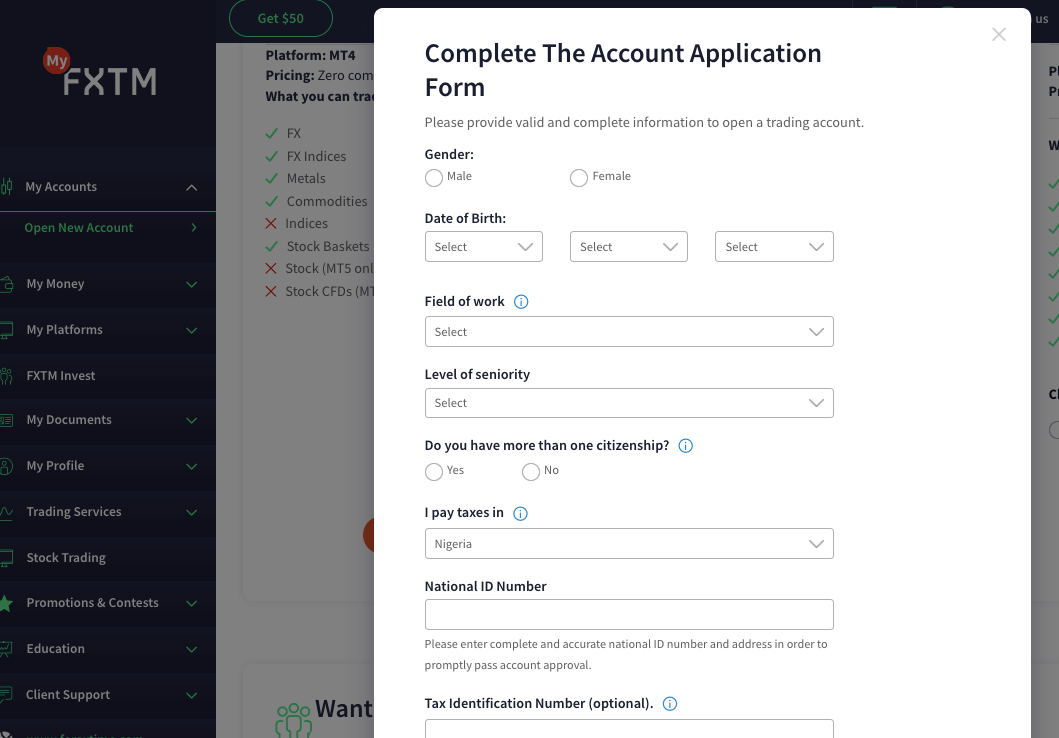 Step 5: After submitting your bio-data information, you will be required to choose your account currency, set a leverage limit, and create a password for the trading account. For Nigerian traders, it is best to choose NGN as account currency.
After creating a password, click on 'Open account' to proceed.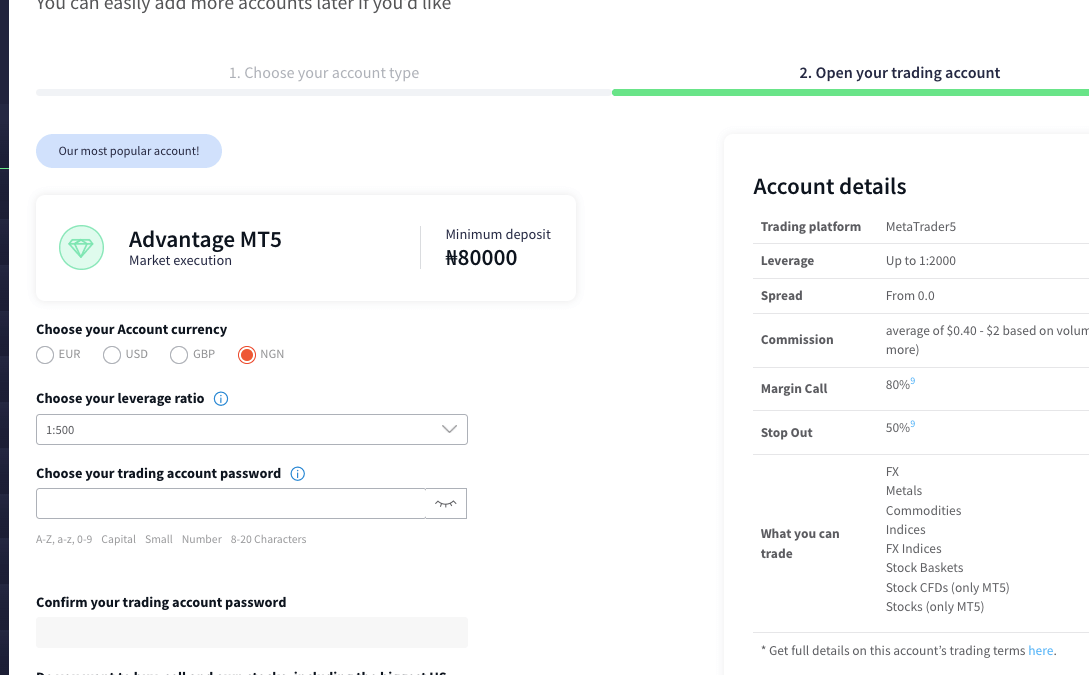 Step 6: After creating your account, you can make a deposit to your trading account and start trading.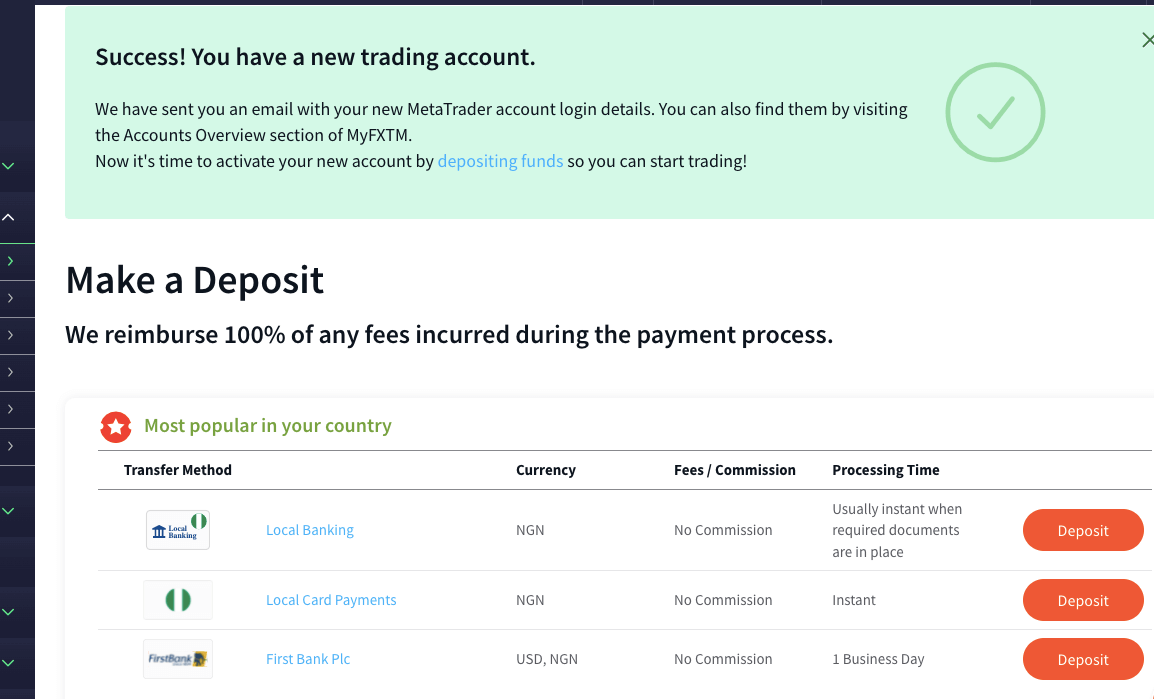 FXTM Deposits & Withdrawals
Payment methods supported by FXTM for deposits and withdrawals are bank transfers, e-wallets and cards. Here is the summary of the deposits and withdrawal options on FXTM in Nigeria.
FXTM Deposit Methods
Here is a summary of payment methods accepted by FXTM for deposits.
| Deposit Methods | Availability | Charges | Processing time |
| --- | --- | --- | --- |
| Internet Banking/Online Bank Transfer | Yes (NGN) | Free | Instant |
| Cards | Yes | Free | Instant |
| E-wallet | Yes (Skrill, Neteller, and others) | Free | Instant |
FXTM Withdrawal Methods
Here is a summary of payment methods for withdrawals accepted on FXTM.
| Withdrawal Methods | Availability | Charges | Processing time |
| --- | --- | --- | --- |
| Internet Banking/Online Bank Transfer | Yes (NGN) | Free | 24 hours |
| Cards | Yes | $3 per transaction | 24 hours |
| E-wallets | Yes (Skrill & Neteller) | Free | 1 business day |
How much is FXTM minimum deposit?
The minimum deposit on FXTM is ₦10,000 or $10 for Micro Account and ₦80,000 or $200 for Advantage and Advantage Plus Accounts. Although deposits via cards have a minimum deposit amount of $5.
How do I Deposit Funds?
Follow the steps below to deposit funds into your FXTM Account with Nigerian Naira:
Step 1: Log in to your FXTM account dashboard via the FXTM website or www.forextime.com/login.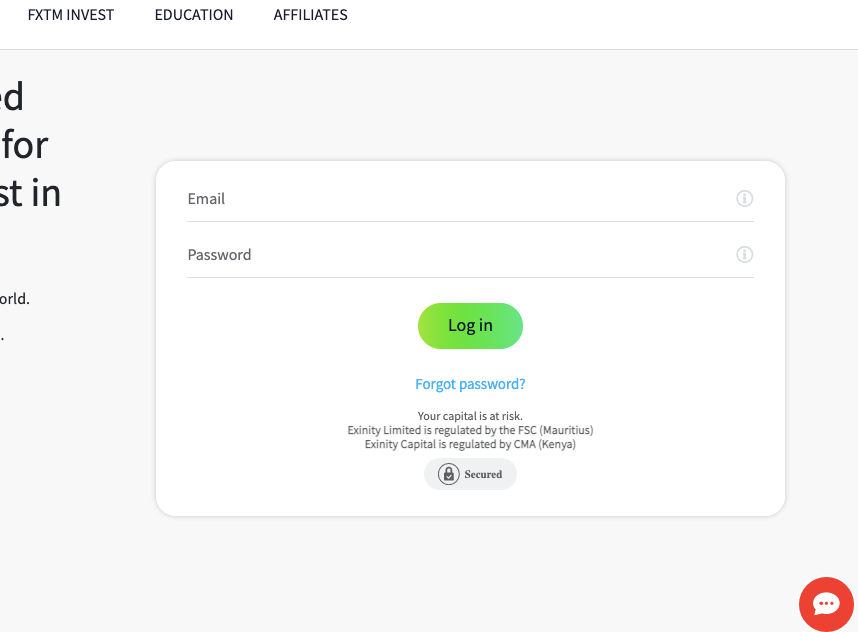 Step 2: Click on the 'My Money' tab on the left side menu and select 'Deposit funds'.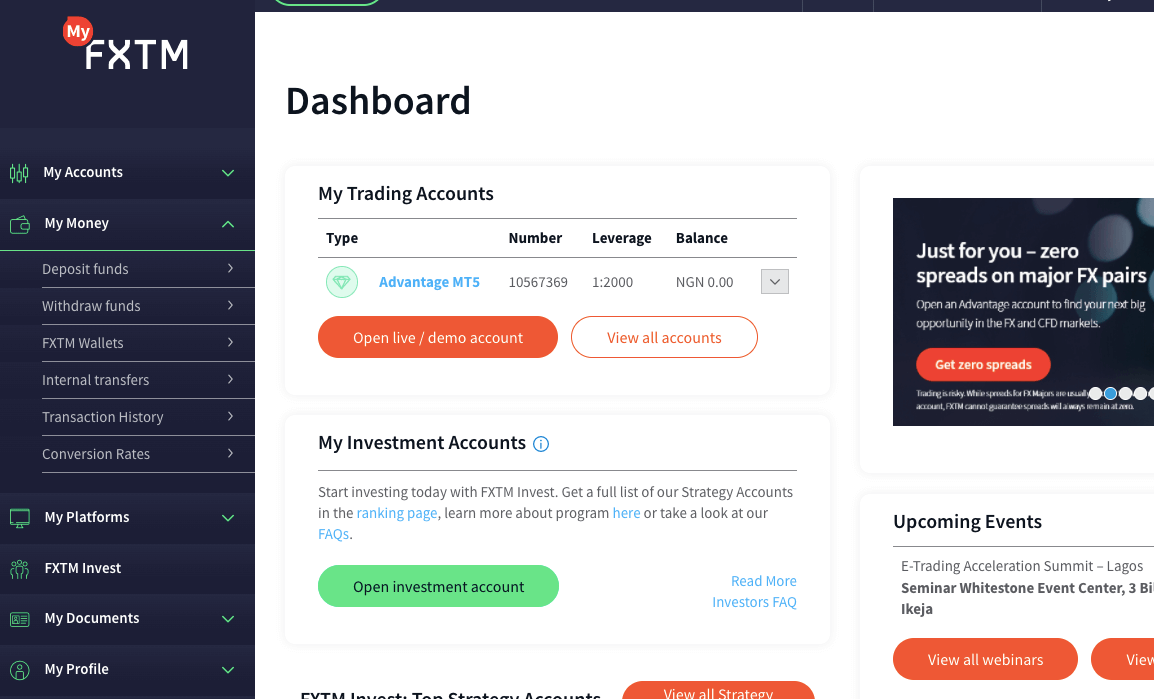 Step 3: Select a payment method and click on the Deposit button beside it.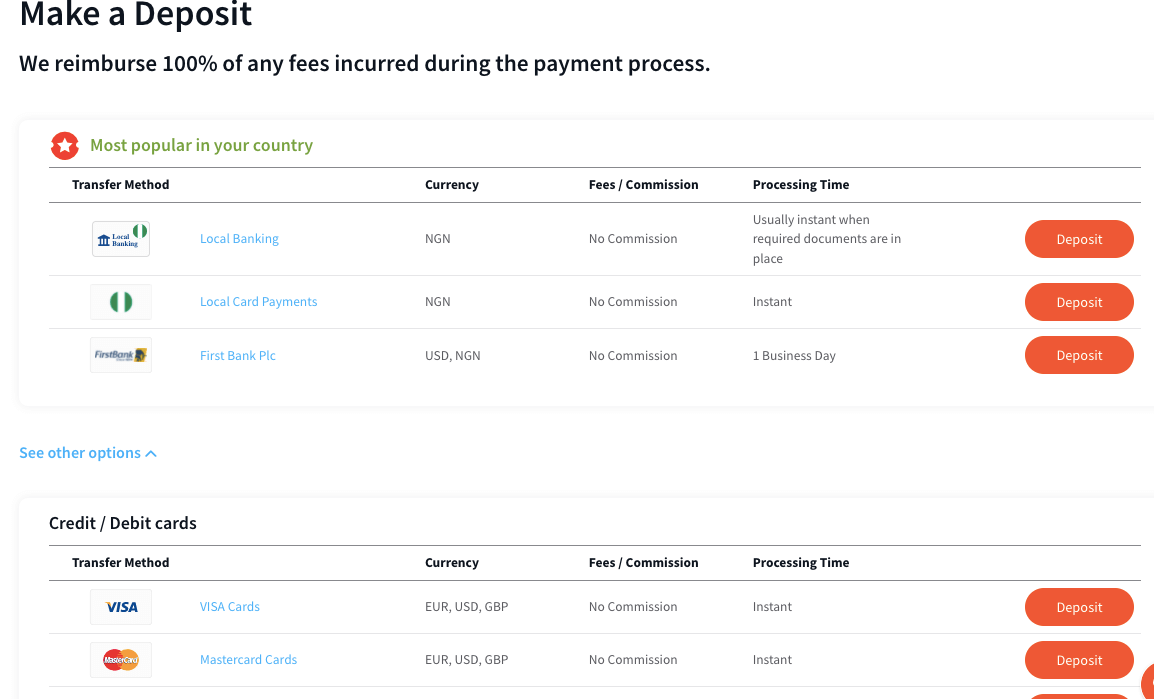 Step 4: If you select local banking, you will be required to enter the amount you want to deposit and your account number. After supplying this information, click on 'Confirm' and follow the prompts to complete the deposit.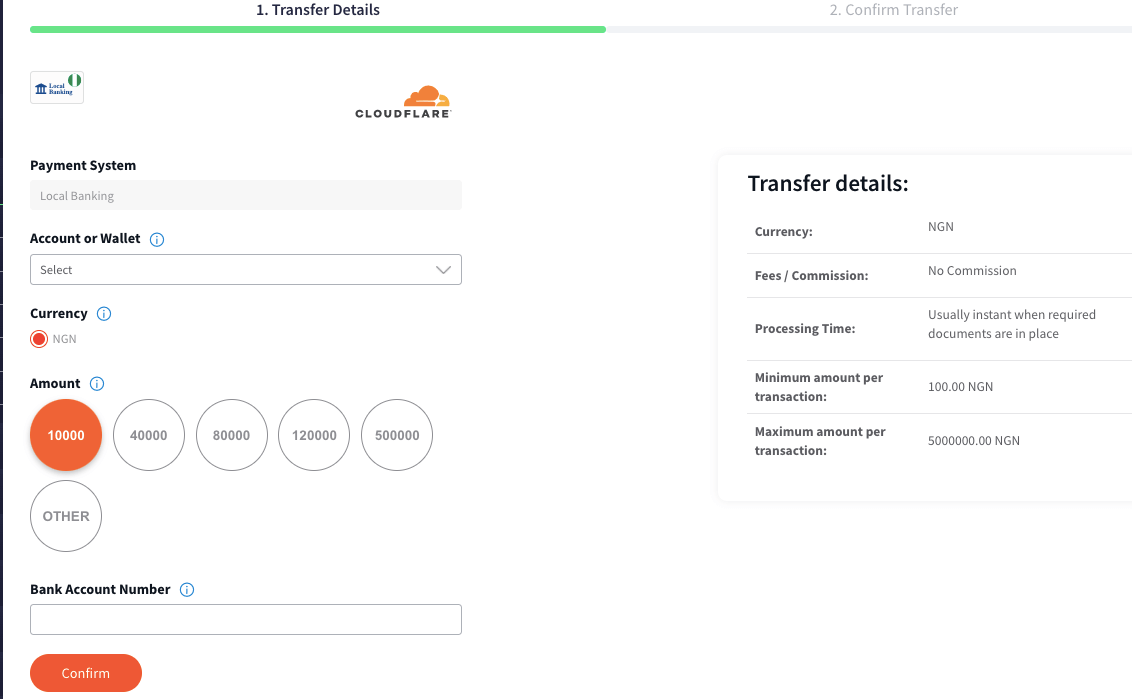 What is FXTM Minimum withdrawal?
The minimum withdrawal amount on FXTM is ₦1,000 or $1 per transaction. Withdrawals to Nigerian bank accounts and other payment methods are processed within 24 hours or 1 business day.
How do I withdraw from FXTM in Nigeria?
Follow the steps below to withdraw money from your FXTM Account with Nigerian Naira:
Step 1: Log in to your FXTM account dashboard via the FXTM website or www.forextime.com/login.
Step 2: Click on the 'My Money' tab on the left side menu and select 'Withdraw funds'.
Step 3: Select a withdrawal method and click on the Withdraw button beside it.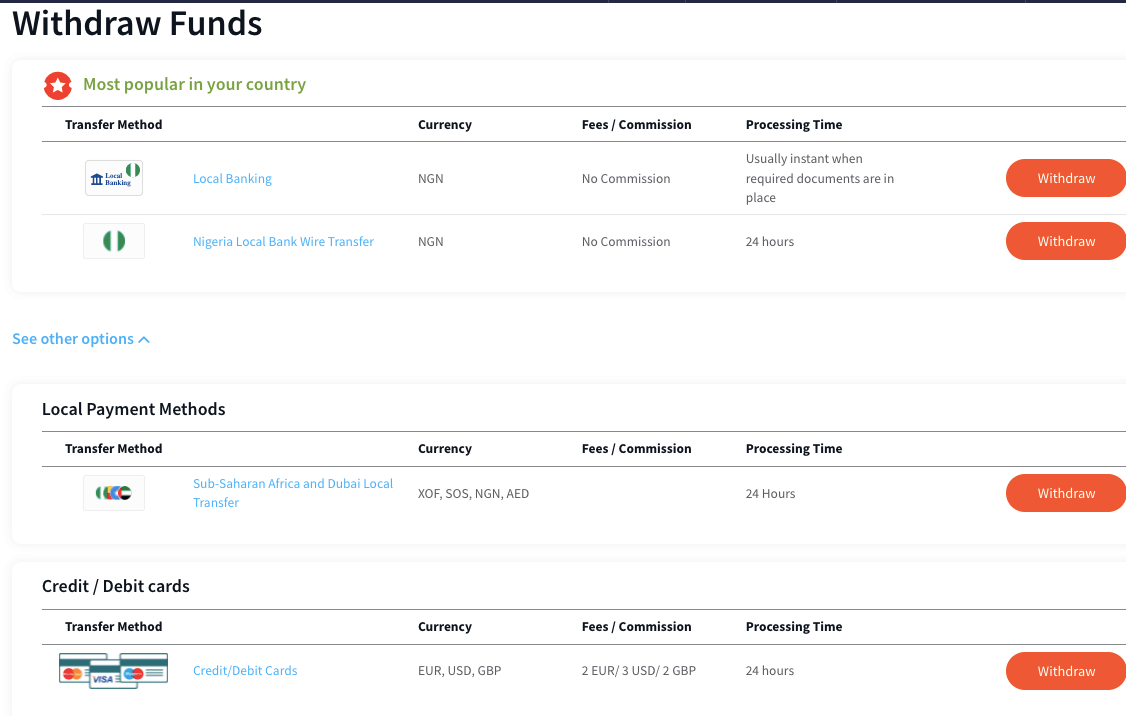 Step 4: you will be required to fill in your bank name, account number, and the amount you withdraw. Click 'Confirm' to proceed and follow the prompts to complete your withdrawal.
FXTM Trading Instruments
You can trade any of the following numbers of CFD instruments with FXTM.
| Instrument | Availability | Number |
| --- | --- | --- |
| Forex | Yes | 58 currency pairs on FXTM (19 majors, 22 minors, 17 exotics) |
| Commodities/Energies | Yes | 3 spot commodities on FXTM (Brent, Crude, Natural Gas) |
| Metals | Yes | 5 pairs of Spot Metals on FXTM (Gold and Silver paired to USD, EUR and GBP) |
| Indices | Yes | 13 spot indices on FXTM (AUS200, UK100, GER40, and others) |
| Stocks | Yes |  638 stocks on FXTM (US stocks) |
| Stock CFDs | Yes | 798 CFDs stocks on FXTM (CFDs US and European stocks) |
| Crypto CFDs | Yes | 11 CFDs cryptocurrencies on FXTM (BTC, DOGECOIN, RIPPLE, and others) |
FXTM Trading Platforms
FXTM supports the following trading platforms:
MetaTrader 4: You can trade FXTM financial markets with the MT4 trading application, the application is available on the web, desktop platforms (Windows and Mac), and Android and iOS mobile devices
MetaTrader 5: FXTM now support MT5. With 80+ indicators, VPS trading, MQL5, and a powerful trading system, FXTM MT5 has all you need for a comfortable trading experience. It also comes with a multi account manager. You can use FXTM MT5 on PC, Mac, mobile and tablet.
FXTM Trader: FXTM offers a free mobile trading platform that can be downloaded from the Apple App Store or Google Play Store.
FXTM Nigeria Execution Policy
Before going into FXTM's best execution factors. We'd like to mention that the company takes all reasonable steps to make sure traders get the best possible results. In case of slippage, FXTM will give a re-quote under instant execution. If the trade is not under instant execution, it will be executed at the next available price.
FXTM's best execution factors include price, cost, speed, the likelihood of execution, the likelihood of settlement, etc. Let us break them down.
The price given for any given CFD is obtained from third-party external sources. The prices are calculated by reference to the price of the relevant underlying asset. These prices are updated within as much as technological limits allow. The external sources are also reviewed daily to ensure that the prices provided are competitive. If any order can not be executed at your declared price, because of volatility, it will be executed at the first available price.
Costs include commissions and financing fees (swaps). When you open a position on some CFDs, you are charged a commission which could be a fixed amount or a percentage of the total value of the trade. These fees are not included in FXTM's quoted price. They are charged from your brokerage account.
For speed of execution, FXTM sr=trives to get you speedy execution within the limit of technology available. However, there could be hardware/software problems when you are using electronic trading platforms. It could be a poor internet connection or a server problem. This might lead to your order being executed at a poor price or not executed at all. FXTM does not bear any responsibility for this so take note.
The likelihood of execution is a bit complex since FXTM could act as a principal or an agent. Execution is more difficult with the latter. In addition, the company can decline your order type or give you a new price. You can accept or reject this price. In summary, the likelihood of your order being executed depends entirely on how effective FXTM is as an agent or principal.
FXTM Nigeria Education and Research
1)Top Guides: FXTM has two trading guides namely: forex trading for beginners and CFD trading for beginners. Both guides are in text form so be ready to do a lot of reading. There are also images to illustrate the texts.
Forex trading for beginners begins with defining forex and the forex market. It has six chapters as displayed below

The basics of trading like currency pairs, time zones, technical analysis, spreads, and other concepts are covered in detail.
CFD Trading for beginners deals with how to open/close positions and how the contract works. FXTM also went a great deal to explain the brief history of CFD brokers and trading concepts like margin and leverage. Combined with these are the details of FXTM's CFD trading accounts and fees so you can compare easily.
2)Trading Videos: FXTM has a series of trading videos under their knowledge hub, covering three topics.
The first is forex basics which cover concepts that a beginner must be familiar with in detail. The second topic is technical analysis and has 8 videos. Trends, range, charting, and discipline are the core concepts discussed here. The final topic is trading basics with 15 videos. Here, you will learn about margin, leverage, order types, risk management, etc.
These videos are a good alternative if you do not want to read the trading guides.
3)Daily Market Analysis: This section provides you with the latest news and insights. With the help of FXTM's market analysts, you will get in-depth knowledge of price movements in the markets. The analysis covers popular currencies like GBP, USD, EUR, stocks, and more.
Furthermore, the analysis is not randomly joined together. There is a filter you can use to streamline your search to only needed information. The filter also allows you to choose the medium through which you get the information. Articles, Podcasts, and videos are the means available.

4)Ultimate Guide to Copy Trading: FXTM offers copy trading via FXTM Invest. If you are a newbie who knows nothing about copy trading, you can learn about it via FXTM's ultimate guide. The guide is in text form and you can read it for free on FXTM's website.
Here is the breakdown of the topics disturbed in the guide.

FXTM Nigeria Customer Service
FXTM's customer service is available to clients 24 hours a day, 5 days a week via the following channels:
1) Live chat support: The FXTM live chat can be accessed through their website, it is available 24/5 and they respond fast within the said period. When our team tested it, the wait time was less than 2 minutes and the answers provided were relevant.
When you first click on the live support button, you will have to option to chat on WhatsApp, Telegram, Messenger, or live chat.
If you choose the live chat option, the FXTM chatbot will request your name and email address, then it will first respond to you by showing some FAQs. To transfer to a live agent, simply type chat agent in the chat, and a customer care representative will respond and answer your questions.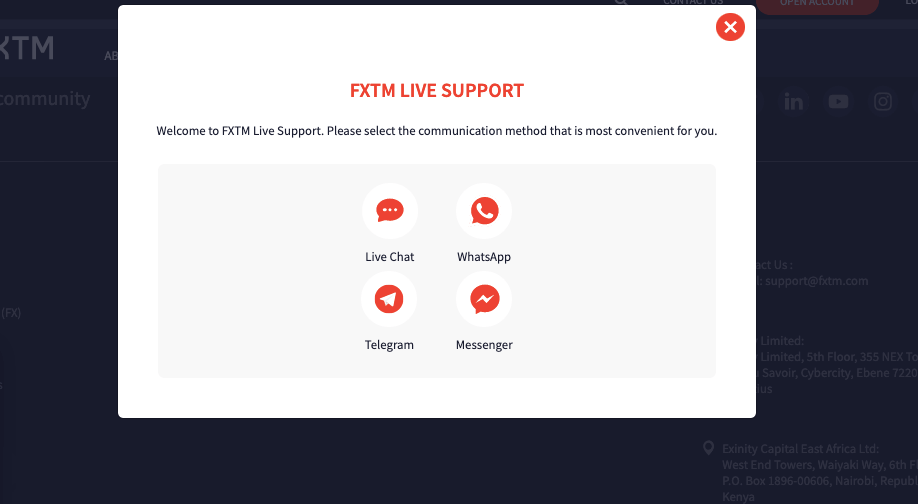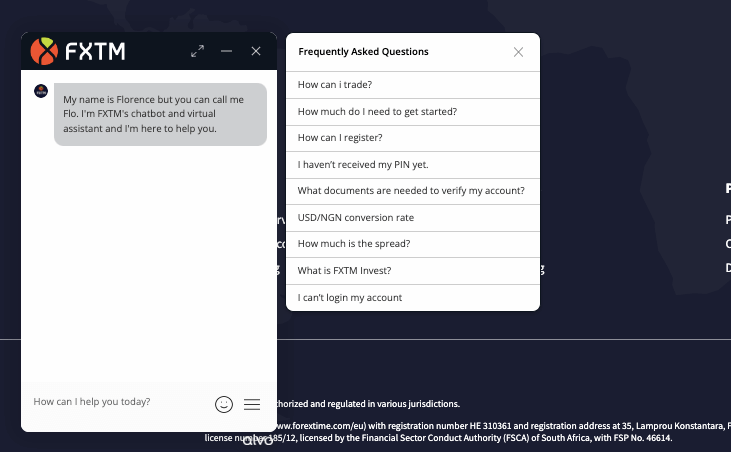 2) Email support: The email support of FXTM is available for 24 hours from Monday to Friday. When you send them an email, you get an auto-generated reply confirming they have received your enquiry and will respond soon.
When our team tested it, we got feedback within a few hours and the answer was relevant. The email address of FXTM is [email protected]. The local email address for Nigeria is [email protected].
3) Physical office: FXTM has physical office addresses in Lagos and Port Harcourt, Nigeria. Customers can walk in to make enquiries. Details of the addresses can be found on their website.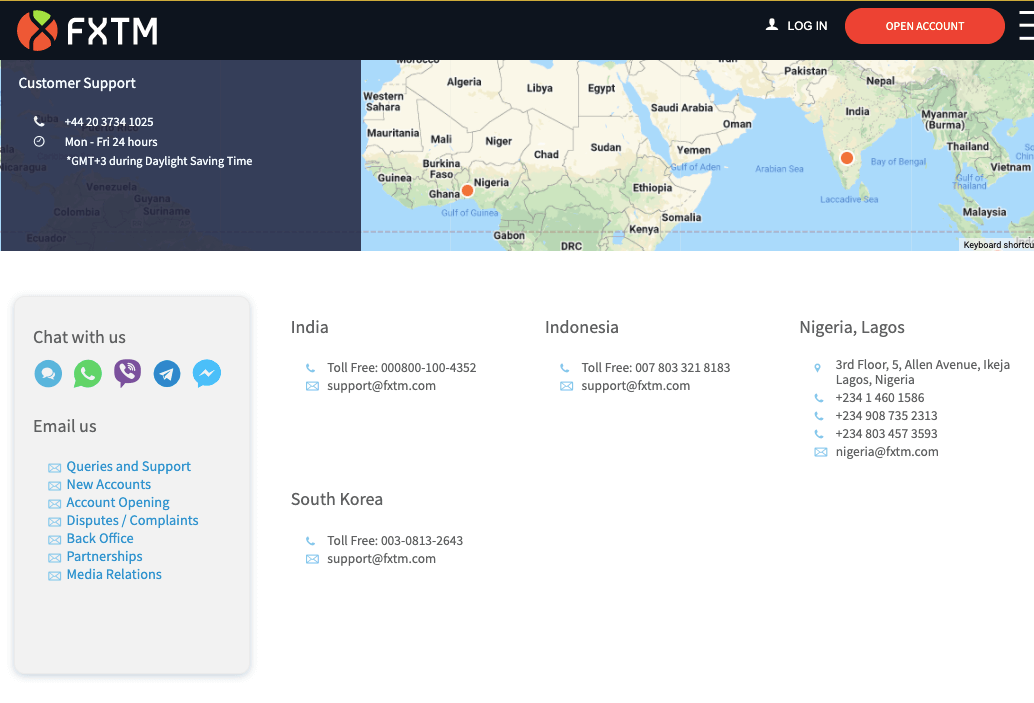 4) Phone support: FXTM also offers international phone support that is available 24/5. They have Nigerian phone support through which Nigerian traders can call locally. The FXTM international number is +44 20 3734 1025 while the FXTM Nigeria customer care number is +234 1 460 1586 or +234 908 735 2313.
FXTM Bonus
FXTM currently does not have any bonus offering for traders except the FXTM Referral Program that gives traders about $50 for referring your friend.
Referral Bonus: FXTM offers a $50 bonus under their Refer a Friend Program. Whenever you refer a friend to the platform and they signup and deposits the minimum required deposit within 7 days of clicking your unique referral link. The person you referred will also get a $50 referral bonus.
All bonuses offered on FXTM are subject to terms and conditions that you must meet. If you are eligible for the bonuses, you will need to accept the terms and conditions through your dashboard to participate.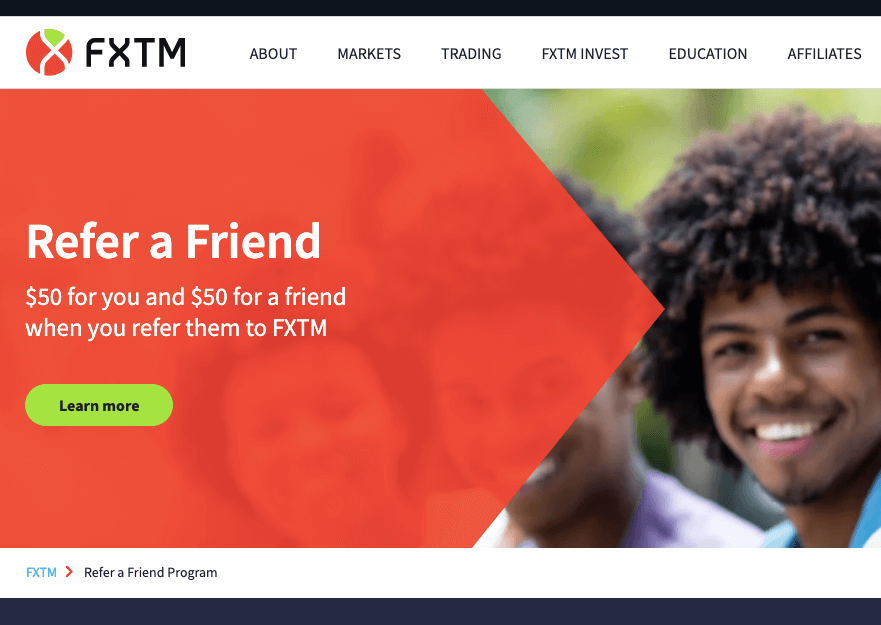 Do we Recommend FXTM Nigeria?
FXTM is licensed by tier-1 and tier-2 regulators. However, Nigerian traders are not registered under these regulations. They are registered under FXTM's license in Mauritius. This is an offshore regulation where rules are loose and leverage is extremely high. Therefore, we conclude that there might be high risk trading with FXTM.
Make sure you are ready to bear the risk before opening a trading account.
FXTM also have low fees with Advantage account, they accept local bank transfers for deposits & withdrawals in Naira, and offer NGN account currency. FXTM also has local support and offices in Nigeria.
The spreads on their Micro account are higher although no commissions are charged on the account, beginner traders who choose this account will pay higher overall fees.
The broker offers negative balance protection so you do not loose more money than you invest.
Overall, we still consider FXTM to be good. You can check their website to see more about them and probably chat with support and ask any questions you have to help you decide.
FXTM Nigeria FAQs
Is FXTM Nigeria a Legit forex broker?
FXTM is considered a legit Forex broker because they are licensed by Top-Tier financial regulators, like the FCA in the UK and FSCA in South Africa, have responsive customer care support and also have physical offices in Nigeria.
How much is FXTM minimum deposit in Nigeria?
FXTM Nigeria requires a minimum deposit of 10,000 Nairas for Micro Account and 80,000 Nairas for Advantage and Advantage Plus Account.
You can transfer funds from your Nigeria bank account to your FXTM trading account through the 'My Money' tab on your FXTM dashboard.
Can I use FXTM in Nigeria?
Yes, you can trade with FXTM in Nigeria as the forex broker accepts traders from Nigeria and offer the Nigerian Naira (NGN) as a base account currency.
How long does it take to withdraw money from FXTM?
Withdrawals to Nigerian bank accounts and other payment methods are processed within 24 hours or 1 business day.
Is FXTM good for beginners?
Based on our research FXTM is good for beginners because they have demo accounts for you to try along with educational videos to help you build your trading.
FXTM also has negative balance protection, supports multiple platforms for trading, less leverage on the Micro Account. All of these features make FXTM good for beginners.
Visit
Note: Your capital is at risk
Note: We may earn a commission if you decide to sign up with the broker via the referral links in this review. This help us cover the expenses of running this website, but this does not affect our honest & transparent review process. Thanks for your support.